City of Eustis, Florida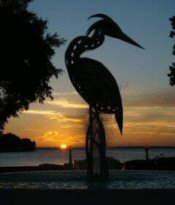 Rich in history, with a promising future, Eustis is ideally located in the heart of Central Florida. Situated in the Orlando metropolitan area, Eustis offers its residents a rural lifestyle with the advantages of an abundance of jobs, major retail centers, extensive entertainment opportunities, and a diverse calendar of cultural events and activities that are available both locally and within easy commuting distance.
Centered midway between both coasts, Eustis is within easy driving distance to the Orlando area attractions, Daytona Beach, the Ocala National Forest, and the Space Coast. Whether you're seeking a place to call home, or planning your next vacation, Eustis offers attractive, year-round lifestyle choices - from casual to elegant - and unlimited opportunities of places to go, things to do, and new friends to meet!
The City of Eustis is celebrating its 125th Year of incorporation with public events during the first 125 days of 2008.
City of Eustis website;