Wagner College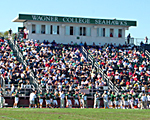 Wagner College sits on a hilltop overlooking Manhattan, the Atlantic Ocean and New York Harbor in the borough of Staten Island. Wagner's 105-acre campus is on Grymes Hill, a classic turn-of-the-century oasis that was once the exclusive domain of families like the Vanderbilts and Cunards.
Located just twenty-five minutes from Manhattan, with its countless cultural, intellectual and professional opportunities, the College's suburban setting provides the serenity of a quiet campus as a complement to the excitement of New York City. A ride on the Staten Island Ferry (and it's free!) transports our students and visitors to the wealth of opportunity that Manhattan offers. And if you want to remain in the local area, the many restaurants, movies, shops and cultural activities on Staten Island will keep you busy.
Wagner's Students take advantage of our extraordinary location every day in their field experiences, internships and professional development.
They attend world-class arts performances and visit world-renowned museums; great professional athletics teams are at our doorstep, as are Wall Street and Times Square. The saying "It's the best of both worlds" really does apply to Wagner College.
Wagner College website;